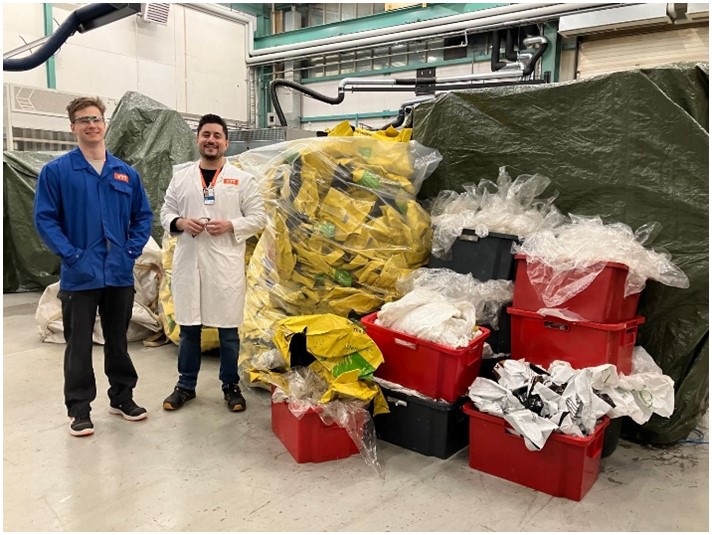 The first trial run was conducted with VTT's novel modular mixer MODIX at VTT's Polymer Pilot Hall in Tampere, Finland.
Separate batches consisting of different types of agricultural plastic packaging were studied to investigate how the materials behave during MODIX processing and how the fluffy material can be compacted and homogenized. The sample size was 5 kg of agricultural plastic packaging material including single and different fractions of plastic types. During processing, the material was melted and homogenized by the rotating screw. Different batches of thermo-mechanically recycled plastics were produced all of which were visually similar and efficiently compacted.
Modular mixer (MODIX-extruder) 
Conventional extrusion processes of bulky plastic waste require multiple steps before extrusion such as shredding and pelletizing due to the limitations of feeding large plastic parts directly into the feeding zone. MODIX is a novel extruded developed by VTT (See Figure below). In MODIX, two cylinders are nested where the molten plastic passes through enabling a large contact area for accurate temperature control together with high shear. The product of MODIX processing is compacted homogenous material without any pre-treatment required for the input. The product can be used in pyrolysis treatment for instance thanks to its homogenization ability of the mixed plastic waste which include a variety of different polymer types and compacting them into smaller particles that can be directly fed into pyrolysis reactor. One of the most important benefits of MODIX is possessing large feeding zone which allows feeding bulky material directly without any pre-treatment. MODIX treatment not only provides efficient mixing with short screw length, but also enables the possibility for long processing times with a compact system requiring minimal floor space. The investment costs of the MODIX extruder are lower due to simplified design and easy maintenance with decreased costs.